Name: Nathan Oh

Age: 14

Sign: Capricorn

Chinese Sign: Rooster

Height:

Weight: 129 lbs

Schools: Troy High - 9th; Parks Jr. High - 7th and 8th; Laguna Road Student - 6th, 5th, 4th, 3rd, and 2nd grade; Montessory Arboland - Kindergarden to 1st. grade.

Life:

Religion: Christian

Animal side:

Home: Southern California

Path I Chose:

Martial Arts Path: Tae Kwon Do

Martial Arts: TookGong Moo-Sul (Ultimate Martial Arts)

Injuries:

Purpose:

Reason:

Wants for Self:

Wants for Life: To be Self Sufficient

Wants for Job: A Job that is Never Remedial. Something that is a Constant never-ending Challenge.

Flaws:

Strengths: Intelligent, Cautious, Listener, Adapt, Rebel at Heart, Self Teach, Think on my Feet, Task Master, Understanding, Quick Learner, Nice, Empathy, Honest, Trustworthy, Loyal, Self Starter, Sense of Humor, Don't Give Up, Know Myself

My Word Treasure: Friends, Family, Moments in Time

Skills: Martial Arts

Condition of Heart: Stone and Eclipsed

Condition of Mind: Stable and Sound

Condition of Body: Good

Condition of Soul: Restless

Condition of Life: Rebellious

Secrets:

Fear: ???

I'm a "BLACK" belt in Tae Kwon Do.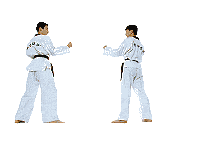 I might also include some information about my personal history: where I grew up, where I went to school, various places I've lived. If I have one, I'll include a picture of myself engaging in an activity I enjoy, such as a sport or hobby.
High flying kick with my roundhouse to his face

What a kick!

I'll be describing TKD in a little more detail here.

Camping on Summer

Ski during the Winters
Ride my scooter on weekends


Favorites
Colors: Blue, Red, Green

Animal: Lion

Amphibian: Allegator

Mammal: Whale

Bird: Eagle

Season: Winter

Time of Day: Night

Food: Freedom Fries

Juice: Gatorade

Books: Captain Underpants, Harry Potter

Movies: Jet Li

Star:

Video Game: Sonic battle 2, Super Smash Brothers

Places:

Ice Cream: Oreo cookies and cream

Cartoons: Yu-gi-oh